"The family is one of nature's masterpieces."
         – George Santayana
Family Portrait Sessions
At the beach, the garden, at your home -usually about an hour and includes portraits as well as fun interactive photos of your family…
Family Portrait on Location $350.
Individual, Multi-Family or Multi-Generational
Family Portrait with combined High School Senior portrait on Location $400.
(includes yearbook photo if needed)
 Wall and Portrait Collections
Images framed or matted and framed for a gorgeous collection, or choose our contemporary Gallery Wraps. Collections sizes show  full framed or gallery wrap sizes first,
followed by the portrait image sizes if you choose the matted and framed option.
Add on Gift Portraits, Digital files, Holiday cards…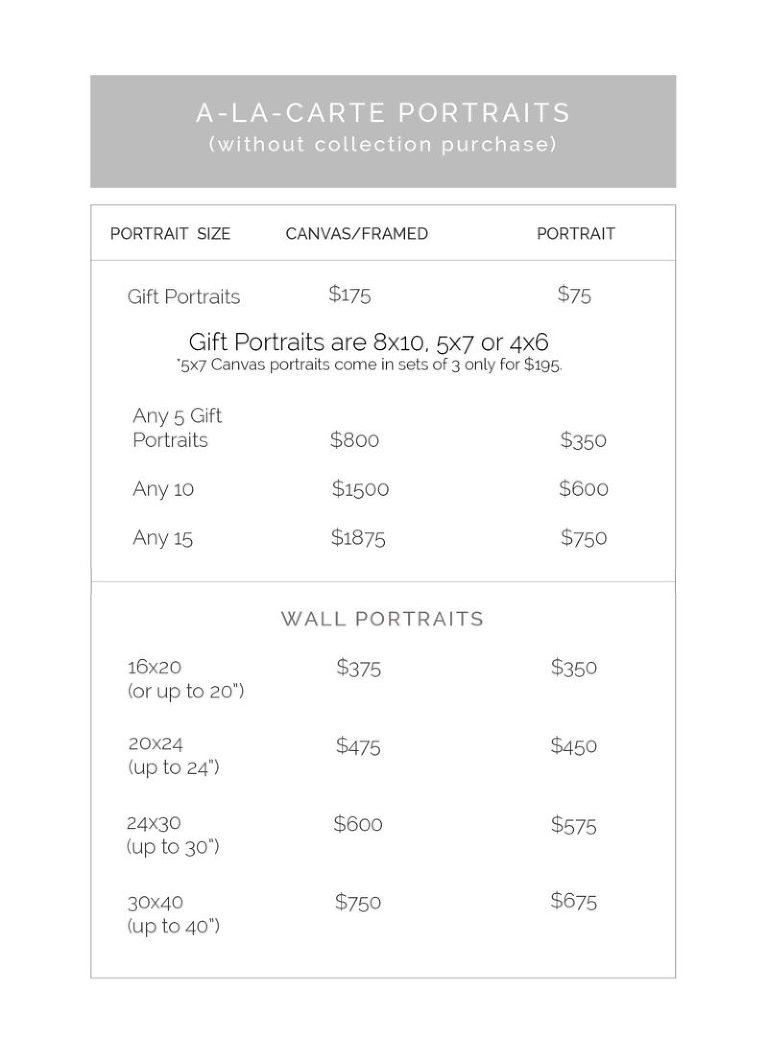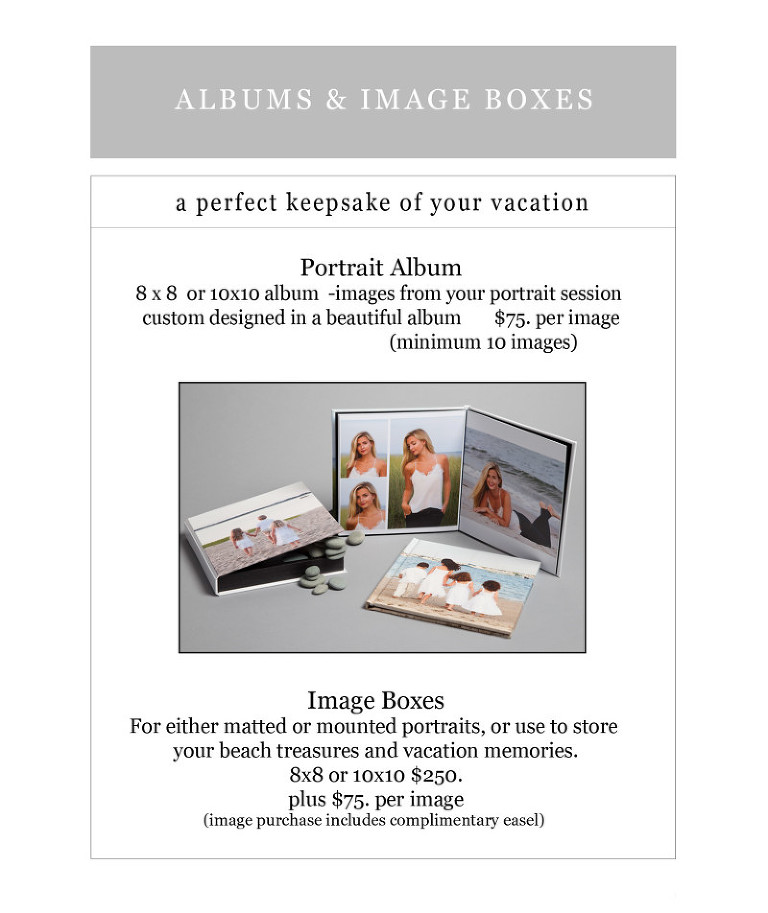 Order information: Special collections, and our framed gift giving portraits, include our Gallery frame options only. Custom framing is always an upgrade option. Our Wall Gallery Collections have three options: Gallery Wraps – images printed on canvas with the image wrapping around the edge, or white borders. The size ordered is the full frame of the gallery wrap. A 20×24 willbe 20×24 on your wall. Available in custom sizes. Full Frame portraits – The portraits are framed, if you order a 20×24, the image will be 20×24. The frame size will be a little larger depending on the frame style chosen. Matted and Framed portraits – The image size will be smaller, and the outside dimension of the mat will be the size ordered. Again, if you order the 20×24, the image size will be 16×20 or thereabouts, the outside of the mat will be 20×24, and the frame will make the artwork a little larger than 20×24. All other a la carte portrait options may be ordered in Gallery Wraps, or they have their own frame choices available, or you may purchase them mounted and unframed.
Digital Files without other purchase: $250. each for fully edited 8×10 size files (minimum 2)
$2000. for entire session (unedited)
Or select 20 images for $1000. (unedited)
Studio policies
Become a fan of the Studio on Facebook and friend us for photographs ordered to be posted online as well as receive the occasional special offer and ideas for your portraits.
Or… Follow us on Google+ for images posted online there and other special offers.
Photographs are available for viewing in the studio, or online. If you choose online, we will schedule a sales session with you to walk you through whatever you may need. It's impossible to list every option we have available for your portraits, so if you were looking for something not listed, please contact us and we'll be happy to help.
Portrait orders take 4 to 6 weeks from the time they're ordered. All orders for Christmas must be ordered by the beginning of October, Hanukkah dates vary by the date of the holiday so please plan accordingly.
Sarah takes great pride in her work, and wants you to be happy with both the experience and final portraits for your home, please know we're always available to help you in any way we can, from answering questions to helping you to hang your portraits.
We are available to help you with any questions you might have, by phone, email or in person.
The Studio by the Sea • 292 Main Street • Hyannis, Massachusetts 02601
508.775.2552
info@thestudiobythesea.com