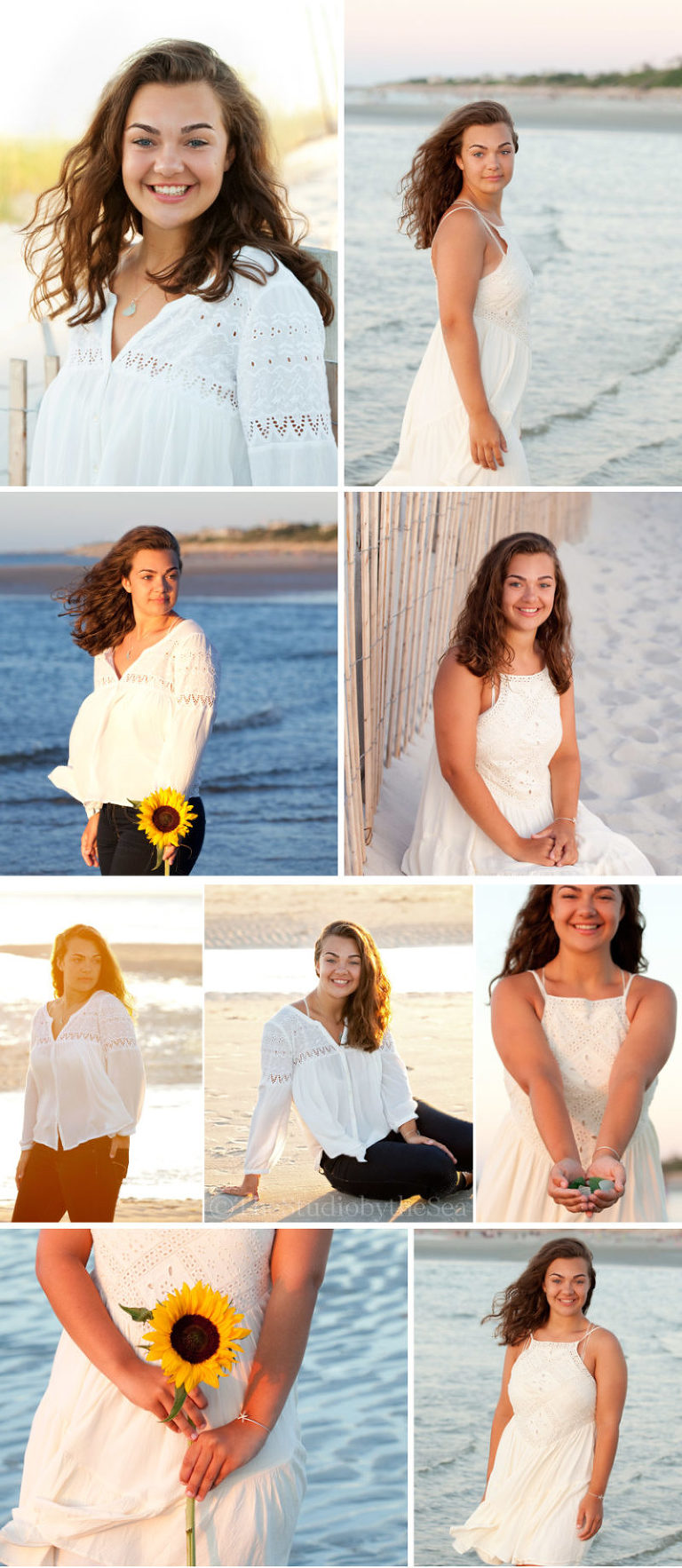 I first met Meghan, and her family, when I photographed her family portraits a few summers ago in Harwich. Last summer I was lucky enough to photograph her senior portraits, she chose Mayflower Beach in Dennis to have them taken. One of my favorite parts of senior portrait sessions is getting to know my seniors a little, and sometimes, even though we're in different generations, finding commonalities and things we both enjoy. Meghan and I did well on that part. Like collecting sea glass.
I always tell seniors to bring things they'd like to include in some of their portraits, something to make it all about them, to personalize their senior photos. Examples I give are ballet shoes, their dog, their Letterman jacket… Meghan brought sea glass. She was my first senior to ever bring sea glass. The collector in me loved it, what a cool idea. The photographer in me got a little nervous, lol. How the heck was I ever going to share this passion of hers… My best idea was to put the sea glass on the sand and have her walking off down the beach with the sea glass being the focus and her a little soft, more background with the sea and the beach surrounding it all. But if you've ever been to Mayflower Beach at sunset (and I hope you have because it is always chosen as the top beach on Cape Cod to watch the sunset) you'll know that expansive open views with no people are about impossible. Unless we wanted to go in say, February! So I had to cross that (I thought quite brilliant) idea of my plan… I love the image we captured, the sea glass in her hands, and that beautiful smile on her face. It shares the joy she has in finding those little treasures.
She also brought a Sunflower, which made us all laugh a lot, Meghan doesn't enjoy being the center of attention too much I don't think, but when you're on a busy beach, being photographed, with a large Sunflower, it is impossible not to draw attention to yourself. What a fun prop too. So bright, and just so happy. Captures her personality perfectly.
Even though it's taken me a year to post these images, and I'm in the middle of this year's senior class' photos, I can totally remember being there with her and her lovely mum that night, sharing a tiny part of her senior year, and her summer, and getting to know her just a little on the way… Wishing her, and all of the Class of 2017 all the best as the next stage in their journeys begin.
And to the Class of 2018, if you haven't booked your Cape Cod senior photos yet, I still have just a couple of openings left.