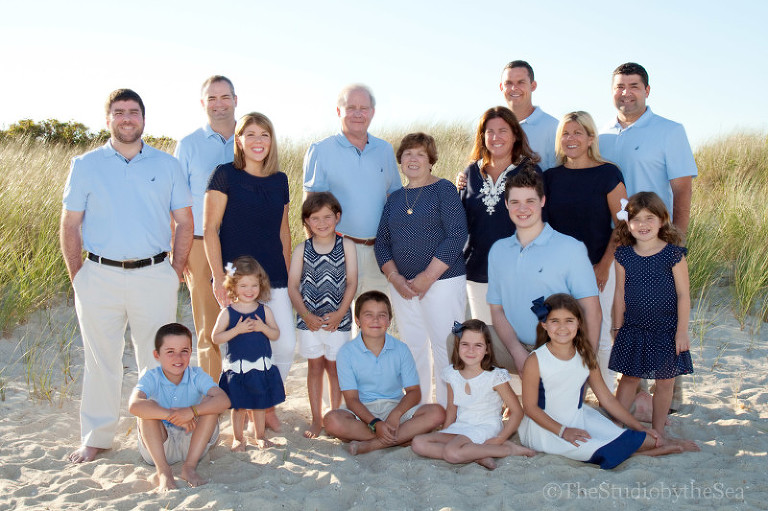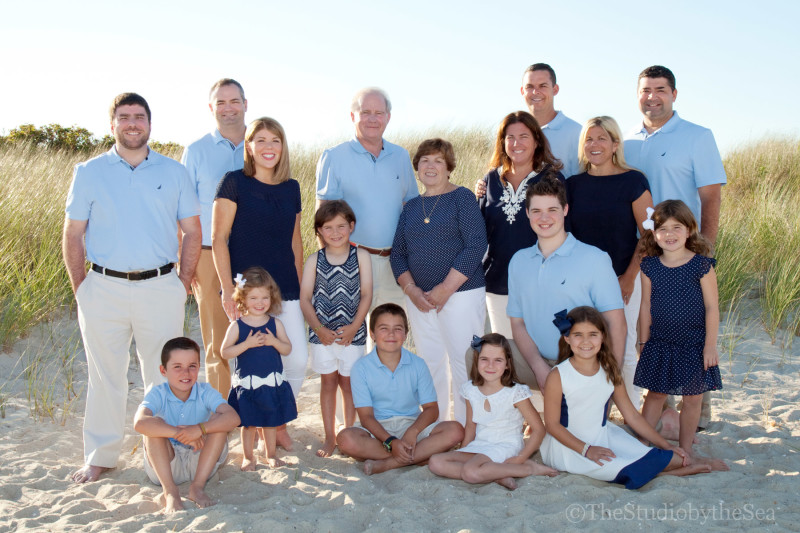 What should I wear to my Cape Cod family beach portrait? Probably my most asked question. Followed by, what do we do if the weather is bad? Or sometimes, will you tell my family what I want them to wear? (Which of course I will!!!) I have other posts, and always send information once you've booked, but today seemed a good day to talk clothes.
My favorite is like the family above, a theme, but everyone is wearing something they love that looks wonderful on them, it's not 'matchy-matchy' but looks great. Looks cohesive. Doesn't distract or take away from all of those gorgeous faces and beautiful smiles. I love the bit of pattern they included. A perfect look for a Cape Cod photo.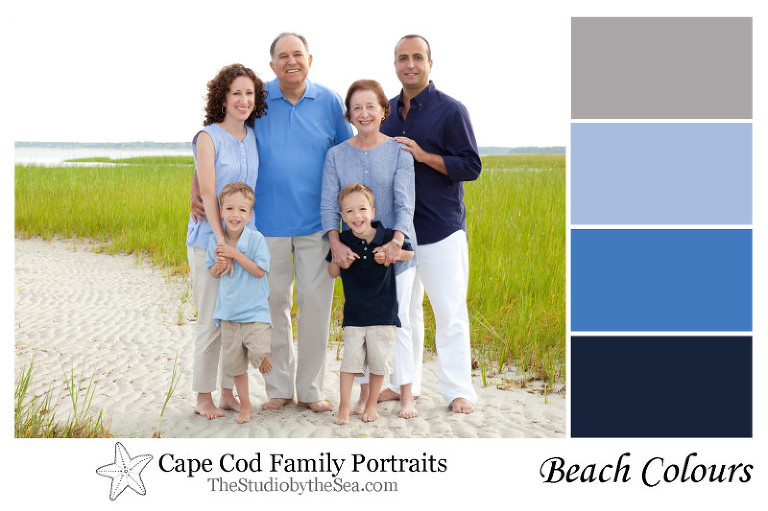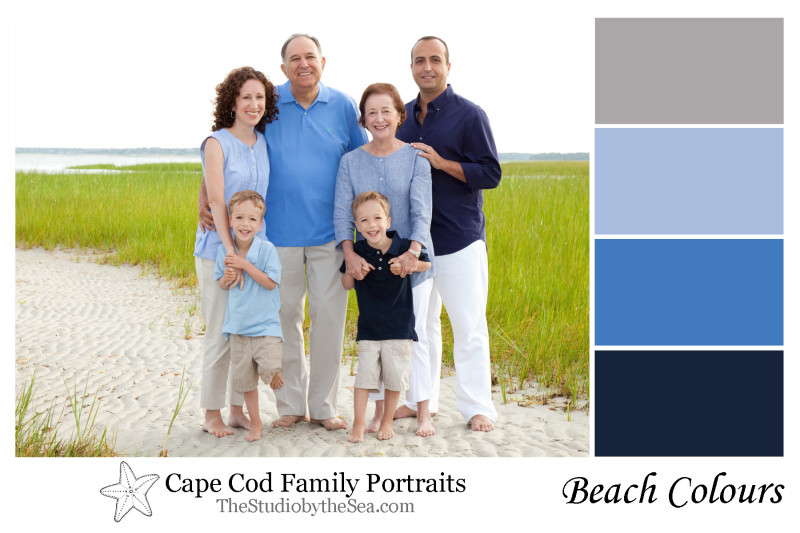 Simple. Cape Cod. Totally nautical with the navy. Different blues add interest, but again not distraction. Simple bottoms in khakis and white. Elegant and gorgeous. Allows all of the fun and love of the family to shine through, because you look right at those fabulous smiles. (Aren't they fabulous? Too adorable those boys!!!)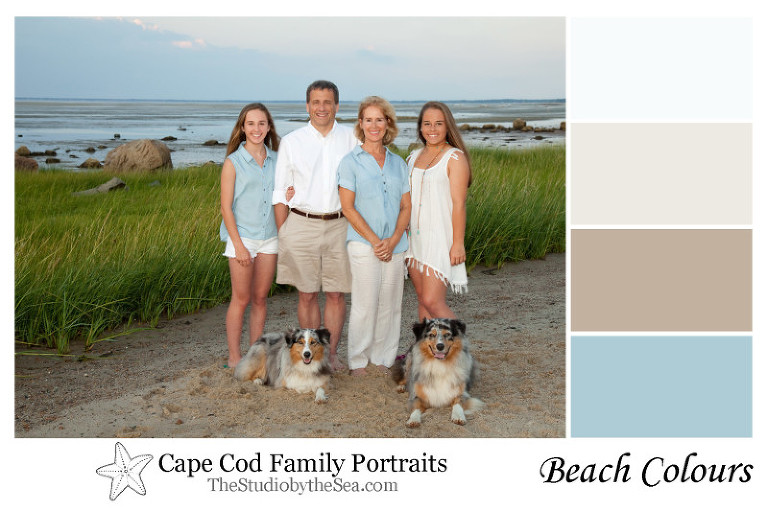 Classic Cape Cod beach portrait apparel. Light blues, khakis, whites. Timeless. Always in style. Again, choosing outfits you love that look good on you create simplicity in your portrait while allowing your uniqueness to be shared. If you tell a teen girl that they must wear something, chances are it won't go over well, tell her she can choose her outfit within a certain colour scheme, she's going to feel great about herself, which in turn makes for great portraits. And then to make everyone even happier, bring the dogs. Certainly makes me happier. I love meeting your dogs. These two traveled all the way from Texas to be in these portraits!!! Completely worth it, I'd say!!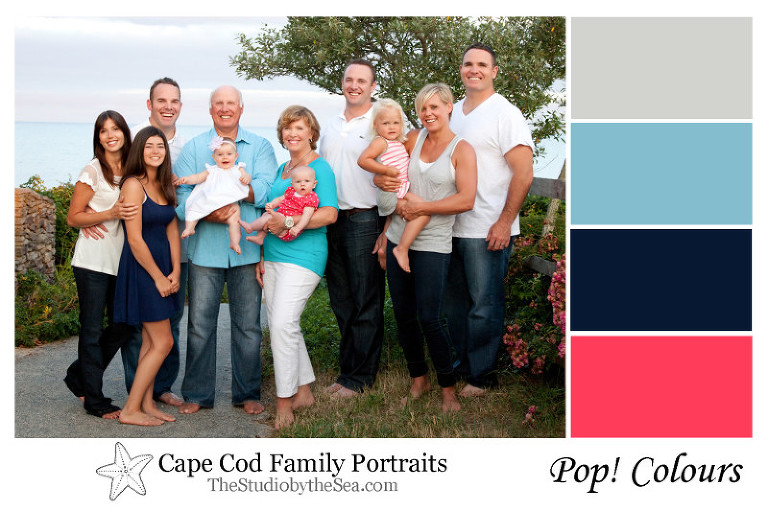 And there's always room for a little Pop! Accent colours in small amounts create fun in your portrait. I love these almost more traditional hues with a bit of turquoise on the birthday girl, and a couple of splashes of red on the sweet little ones. Portraits you will cherish take a little planning so the finished portraits hanging on your wall will be everything you'd hoped for. Pick a spot where the roses are in bloom, and the sunset is absolutely picture perfect and you've got it made!!! Okay, I can't promise either roses or perfect sunsets, but it's always beautiful here on Cape Cod no matter where you choose…
We're booking the summer of 2016. Contact us for dates or details. Can't wait to see what you wear for your portraits!
Cape Cod family portraits shared  here are from Dowses Beach, Osterville. Skaket Beach, Orleans. A private beach in Brewster. Popponessett, Mashpee.