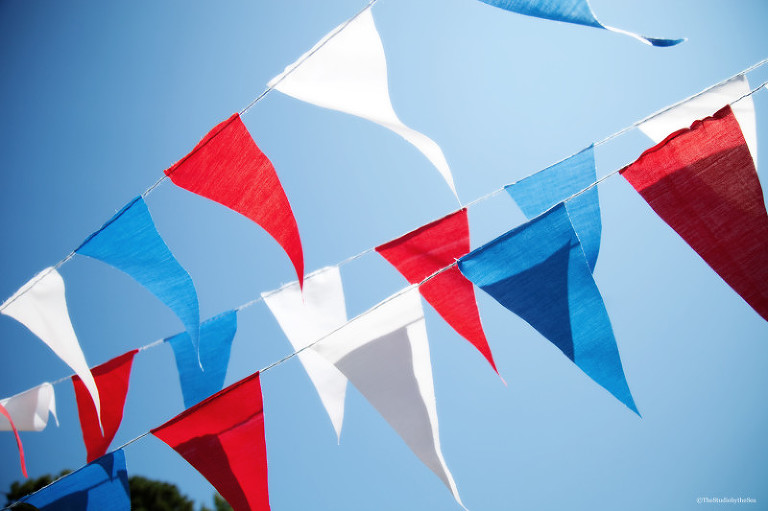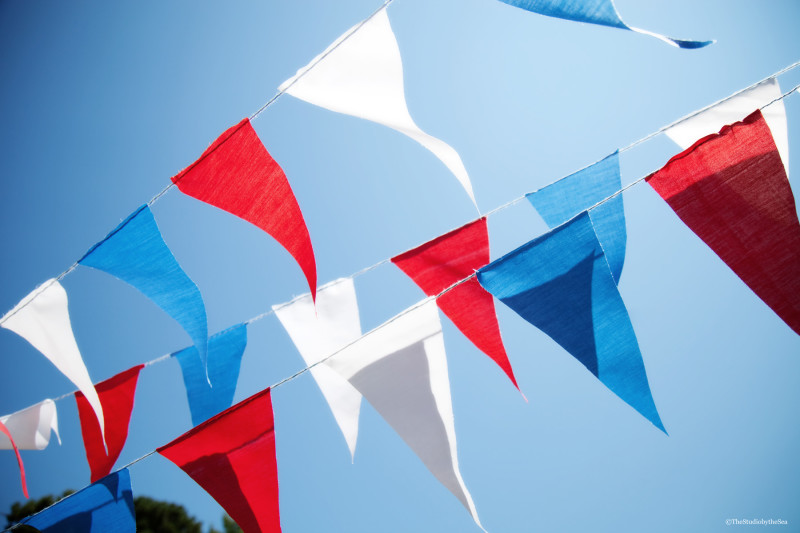 July 4th weekend. Now it's summer. It's a perfect beach day today, and the Cape is full to overflowing. Welcome summer of 2015!
The last summer I spent with my dad he and his (new) family were going to be part of a boat parade and he needed bunting. So he did what any smart dad would do. He asked his creative, going to be there for the summer anyway, lot's of train traveling time on her hands, daughter to make it for him. And so I did. I spent hours cutting pennants, and sewing it all together. After 3 months it was pretty impressive. Yards and yards of red, white and blue bunting. He later sent me photos of the boat decorated, it looked gorgeous. (I'm hoping to find those photos so I can include them, not sure exactly where they are at the moment…)
That was the sad summer we lost him. And that bunting got lost as well. For years, I've thought about it, and wished I had it to decorate the studio on these patriotic holidays, and it's made me a little sad. Each new Memorial Day and July 4th makes me think about it again, in turn bringing a lot of unhappy memories with it. So this year, being my year of figuring out what it is I "plan to do with this one wild and precious life" (Mary Oliver), I decided the years of being sad about it are done. And why can't I just make a new one?
So there I've sat for the past couple of weeks, watching the World Cup, old movies I've seen a hundred times, listening to music, chatting away, drinking endless cups of tea, making bunting for myself. I started a little late, and only have about 30 feet for this weekend's window decor, but it looks great. And it makes me happy. And the whole time I was making it I was thinking about that summer, not in a sad way, but thinking of the amazing travels I took through Scotland and Wales and all over England, thinking about my dad, and my step-mom and my sister and brother, remembering so much laughter, and fun and adventure. Thinking about how happy I made my dad through something I'd made with my own hands and a lot of love. So now that bunting has the place it should have in my thoughts. Happy ones.
Make your own bunting: Super easy to make. I made a template out of card stock, and loosely cut flags from each colour around it. I wasn't fussed about the pennants being perfect. I wanted them all about the same. I didn't hem them or anything, and just did a running stitch along each pennant attaching it to the cotton yarn, tying a knot at each end of the flag so that they didn't bunch or move about. I just running stitched (can that be a verb?) right along the cotton yarn in between the material, spacing the flags approximately the same distance each time. About an inch and a half. I left plenty of yarn at the beginning and the end for hanging. So easy, right? My hubby says I should have machine stitched them, but then I couldn't have made them at the same time as hanging out with my family, so what fun would that be? Although I might try it for the next one, stay tuned!!!!