The perfect thank you note is the one that is sent. Whether it's a quick scribbled note or a handmade masterpiece it doesn't matter. Saying thank you when someone has given you a gift, done something special for you, or helped you in some way is an important thing to both teach our children and do ourselves. You don't even need a special reason to say thank you. A couple of weeks back I sent a thank you to my dearest friend simply to tell her how much I appreciate her, and our friendship.
I send a lot of thank you notes. I send them to my fabulous clients. I send them to my family. I send them to my friends. I love getting mail, and I can't imagine I'm alone in that.
I'm very creative, but I'm not terribly artistic. Today I'm going to show you that it honestly doesn't matter to create a thank you note that will be both fun to create and fun to receive.
A few years back I was at a tag sale and I came across a shoe-box full of manila tags. I knew I needed them, and also I was pretty sure I was the only one who would rescue them from their untimely demise at the local landfill. And what better thing to get a tag sale, really?
I took one of the rescued tags and a printout of one of my images from a trip to Kenya and went to work.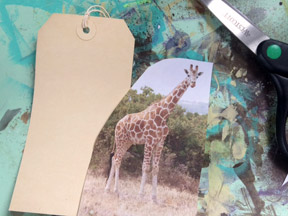 I Modge-Podged the image to the tag, let it dry (okay I'm way too impatient for that, obviously I used my heat gun to speed up the process!), and once totally dry, trimmed off the excess around the edges.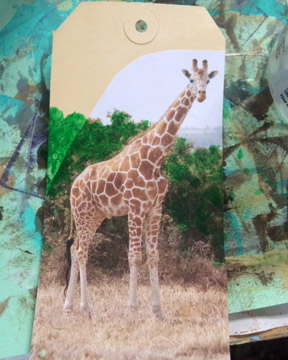 I used a variety of things to blend the image and the tag including acrylic paints, walnut and willow spray inks, and some old antique-ing gel I've had for so long the store has been out of business for the better part of a decade if not more! As you can see, I just dabbed the colour on quickly and blotted most of the inks and gel off, repeating until I was happy with the look…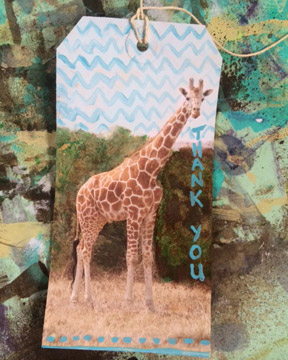 Once I was pleased with the background and sky, I painted a few details along the bottom, some chevron-ish stripes through the sky and thank you on it. I wrote a quick note to a dear friend I've known almost my entire life on the back, she sent me a subscription to The Sun as a gift (thus the need for a thank you). The entire tag took hardly any time at all, and I know it's not a masterpiece, but don't you think you'd be happy to receive this in the mail?
Well just in case, I used one of my fab old map envelopes to send it in. (Instructions for those will be here eventually). I hope that it will bring a smile.
I'd love to see your thank yous!! Please share.