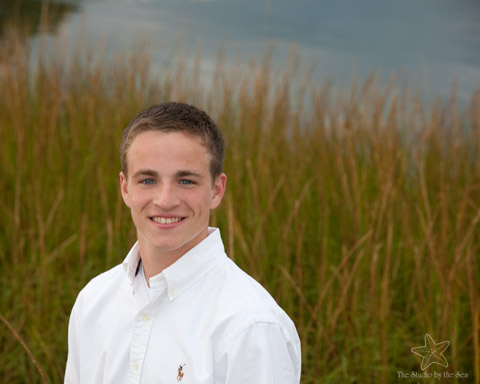 One of the fun things about taking senior portraits for the yearbook here on Cape Cod, is that I get to photograph entire families as they become seniors. Colby was no exception, I'd photographed his two sisters in prior years, and this was his turn. All three chose Dowses Beach in Osterville, which is one of my fave spots. It's funny, sometimes younger siblings come along for the session, and then I meet them again a few years later when it's time for their photos. They always remember it, and tell me about being there.  Of course, that wasn't the case here, I don't get a lot of younger brothers tagging along, they're usually the ones wearing the horseshoe crabs on their heads and chasing the seagulls!
A few years back  I photographed this spectacular senior girl from off-Cape, upstate NY somewhere, she'd walked by my studio when she was in 8th grade and told her mom that she was having me take her photos when she graduated from high school. And she did. I never heard from them, met them, heard of them until they called to book the session. She remains one of my favorite seniors of all time. Obviously. Just the fact that she knew what she wanted, and man, she remembered me all that time. Honored doesn't even come close. How awesome. And even more awesome, she brought her prom dress to wear in some of the portraits. Too bad she was an only child!!!
You know what they say about first impressions? Well I guess it's really true.
I am beyond excited that my first beach session of the year is next weekend, my last for the class of 2014. Of course, I'd thought that a few months ago, and I've added two more since then, so we'll see if that holds. I'm totally ready for the Class of 2015. Are you ready for your moment to shine? Contact us to schedule your Cape Cod beach portraits today.