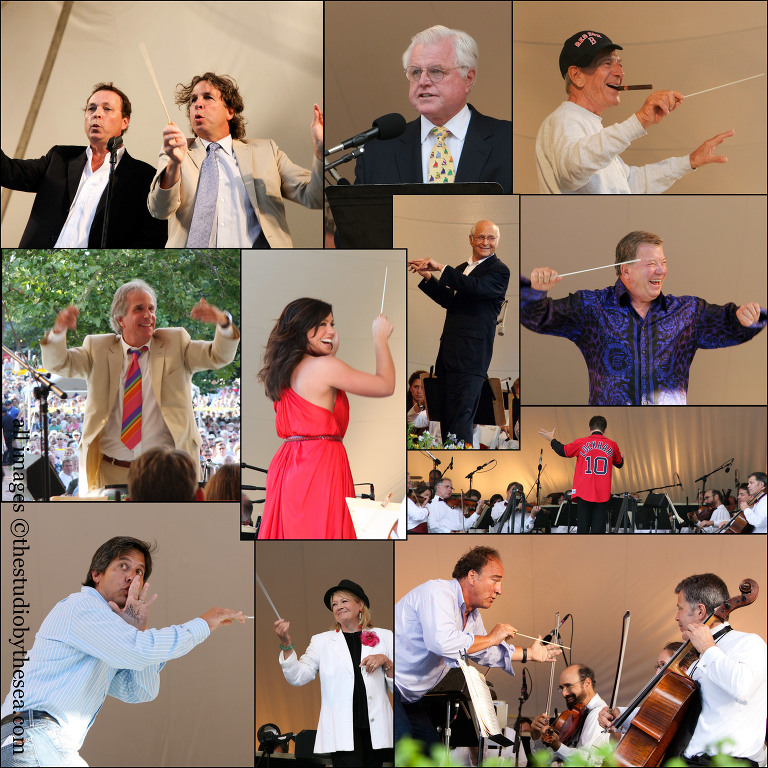 For a little over a decade I've been the official photographer for the Pops by the Sea in Hyannis. I retired my baton, and today is the first day I won't be running around like a crazy woman photographing every second of the day. I truly loved being a part of it, and will definitely miss it! One of my favorite memories from Pops was the year Maya Angelou was the guest conductor, she was delightful to meet. As a conductor, she took it all very seriously, but behind the scenes I remember her big, hearty laugh most of all. If you've ever been photographed by me, you know I'm a little silly, and I always say goofy things like, 'how about a little cha cha cha…' Well, I said that to Maya and she roared with laughter, she has a lot of 'cha cha cha!!!'.
When Ray Romano was onstage he had all of his notes of things he wanted to say written on his hand so he wouldn't forget, I included a close up of his hand in the little album I created for him, because it made me laugh, and I'm sure he did as well.
Jack Klugman was just great, he showed up on stage in his Oscar Madison get up much to the delight of everyone there!
I volunteered my photography services and time, and for the guest conductors of most of the last decade created a little album for them as a keepsake of their time on stage as a gift to them. Again, if you know me, you know that if I'm documenting something be it your family, your maternity session or your senior portrait, it will be very well documented!! I over-photograph everything in my excitement, so you can imagine how many images I used to take at Pops.  Henry Winkler wrote, "the pics are by my bed and they are everything I could wish for and more!!!!! Oh I do relive that time, that weekend just by looking at the cover of the album. It is perfect!!! Yes it is. I can't tell you how much I love that album. Ok I am going now to look at the pics  for the 90 hundredth time." So this gives the geek in me more than a little thrill. Of course, he hasn't yet called to have me create his family portrait for him, but I totally think he should. The summer's winding down, Henry, you might want to get on that!
Today I'll be at Nauset beach photographing a family I haven't yet had the pleasure to meet, looking for seals, and enjoying this beautiful day. A little part of me is sad I won't be photographing the Pops. A big part of me isn't totally sure why I'm not there!!  I'm sure Pops will be wonderful today, the weather couldn't be any better, and the line up is pretty great! If you're going, enjoy it, maybe you can send me a photo or two? Main Street is bustling as I write this with everyone with lawn seats arriving to scope out the best spots, a sign of another successful event by the Arts Foundation of Cape Cod.
Can't wait to hear all about it!